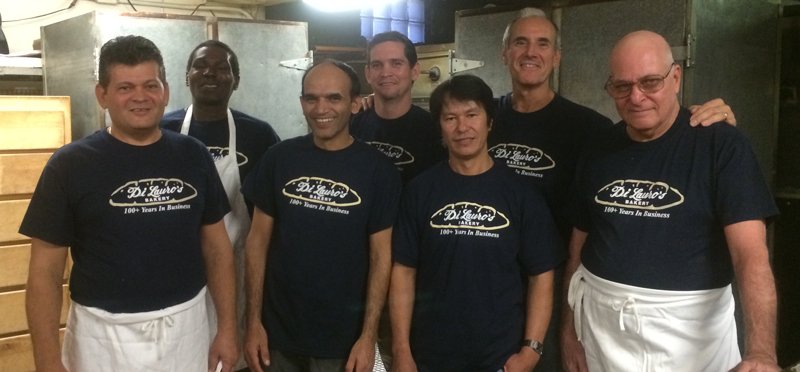 Syracuse's Freshest Baked Italian Bread & Pizza
Di Lauro's Bakery was established in February 1908 by John Di Lauro. He was an immigrant who came to America for a better life. He was on deliveries one day near Cazenovia Lake when he noticed a young girl calling for help where she had fallen through the ice. He rescued her and her father showed his appreciation with a reward to Mr. Di Lauro.
With that money he started Venezia Bakery at 502 E. Division Street where he hired young men to bake Italian bread. As his children grew in age they became involved in the bakery. His sons Nick, Frank and Paul as well as his daughters Rita and Josephine worked there. As time passed Frank and his brother Nick decided to buy the bakery from their father which by the middle 1950's had become to be known as "Di Lauro's bakery".
They continued the family tradition and grew the business by delivering to homes and restaurants for many years. Unfortunately Nick Di Lauro passed away at a very young age in 1973 and Frank carried on. By that time Frank's daughter Valerie had become engaged to Paul Waverchak and there was a mutual acceptance of the idea that Paul wanted to become part of the business.
By 1980 Frank had decided to sell the business to Paul and retire and the business is still owned and run by Paul to this day. There have been some minor changes in the business but the same philosophy continues "make good crusty Italian bread with the best flour and take care of your customers". There is no substituting for quality and courtesy. Our business is now over 100 years old and still continues to have a prosperous future thanks to our many customers.